Welcome to St Thomas CE Primary School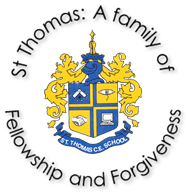 I am extremely proud to be the Headteacher at St Thomas CE Primary School and strongly believe that this is a wonderful place for children to grow and flourish. Here we strive to provide the best possible education, giving children many opportunities to succeed academically and to leave with aspirations that enable them to succeed in life. As well as ensuring that we provide children with an exciting curriculum that develops a life-long love of learning, we also provide children with a vast amount of school enrichment activities.
I am very well supported at St Thomas' by a dedicated, hardworking and caring team who have the highest of expectations for all pupils. The opening line of our recent Ofsted report backs this up by stating- 'this is an extremely caring and nurturing school, where the needs of the pupils are at the heart of all the school does' (Ofsted, June 2015).
St Thomas CE Primary School is underpinned by deep rooted Christian values. Our school has an excellent reputation within the local community and we are proud of our strong, positive partnership with parents.
Thank you for taking the time to view our school website; it should give you a flavour of some of the magic that happens here. You are always welcome to arrange a visit to our school; the pupils would be delighted to show you what makes St Thomas' such an exceptional and enjoyable school experience.
Mr James Marsh
Headteacher
Click the badge above to see our School Vision
Ofsted said in its 2015 report:
This is a good school.
This is an extremely caring and nurturing school, where the needs of pupils are at the heart of all the school does.
Pupils' highly positive and trusting relationships with staff boost their self-esteem and confidence in learning as well as their willingness to try their best.
Exciting and stimulating learning experiences promote pupils' spiritual, moral, social and cultural development well.
Astley Street, Wigan WN7 2AS
01942 672730
enquiries@admin.leighsaintthomas.wigan.sch.uk
That's us in Blue. Glad you could get here.
Parking is only available in the local streets.
Please observe the 20mph speed limit.
Consider our neighbours feelings.